On return home, no happy endings for indentured labourers
By Devirupa Mitra
In a small Tamil Nadu village is India's only living link to a certain colonial past.
New York-based filmmaker Shundell Prasad
Once More Removed: You tube More

Born in Guyana, 64-year-old C.G. Naresh was a passenger on the last ship that returned home to India with indentured labourers more than five decades ago.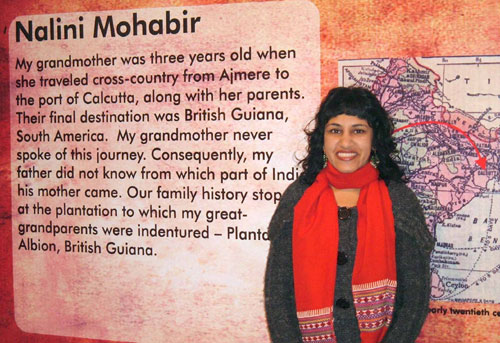 His existence was tracked down just a few months ago by Nalini Mohabir, a 37-year-old Canadian researcher of the Indo-Guyanese descent who has been researching the fate of the 243 passengers on the last boat, MV Resurgent, which left Georgetown in Guyana on September 4, 1955.


The story she unveils is anchored on a crucial clause included in all contracts forced upon mostly illiterate peasants from Bihar and Uttar Pradesh before being shipped to work in plantations across the seven seas. Under the "right to return" clause, the colonial government would pay for the passage home for the labourer at the end of his indentureship.


According to Mohabir, who presented her research through photographs at a diaspora festival organised by the Indira Gandhi National Centre for Arts on the sidelines of the Pravasi Bharatiya Divas from January 8-9, only one in four Indians who went to the colonies to work in plantations returned home.


But the advent of Indian independence suddenly spurred the labourers, even those who had lived there for over 60 years and had grandchildren, to clamour to be returned back to the motherland, their visions tinted with the glorious ideal of being part of a new Indian republic.


"The freedom movement and subsequent independence (of India) had fired the imagination. There were protests in Trinidad and threats of mass suicide in Jamaica over demands to return back home," Mohabir told IANS.


Only the government in British Guyana acquiesced and chartered a ship to take back a thousand passengers. "But the Indian government pasted posters around the city discouraging people to return," she said.


On that September day 53 years ago, it seemed the entire country had come to see off 243 passengers aboard M.V. Resurgent on Sproston's No 1 Wharf in Georgetown. The next day's paper summed it in a poignant headline - "Going Home! To a home they never saw".


The reference was to the fact that that the majority of the returnees were going back with family, many of them having been born in the South American colony and only knew of India from oral tales and newsreels.


The ship's manifest lists the name and the home village, which was a vital clue for Mohabir to trace the descendants.


It was through that method that she stumbled across the only passenger of the ship that she could find alive - Naresh, who had travelled on Resurgent as a 12-year-old along with 19 other family members.


"His father had sold off their entire business to return to India. But, as soon as the ship docked at the port at Calcutta (after one month), Naresh's family realised that they had made a grave mistake," said Mohabir.


Calcutta was a strange city, already bursting at the seams with refugees from East Pakistan and swirling with chaos due to the festival season. Mohabir remembers that her grandfather, Chhablal Ramcharan, who travelled with Resurgent's passengers as the Guyanese repatriation officer, telling her of the day after the arrival when he was besieged at the hotel room with mob of 40 passengers.


"They were crying and pleading with him that they wanted to return back. But, what could he do when the passage was only for one way," she said.


Her grandfather also told her that many of the passengers who couldn't remember their home villages were put up in a charity shelter called The Refuge.


That organisation still stands at Bow Bazaar, from whose dusty ledgers she was able to find another link to the ship. "I talked to some of the old inmates who remembered a mother and daughter who were not from Calcutta". Cross checking the files of the old age home and the ship manifest yielded two names - Manraji (in her 50s) and her daughter, Biphia.


"A son, who had travelled with them, was not listed. Strangely, they apparently never went to their village in Gorakhpur and stayed rest of their lives at the Home. Manraji died sometime in the 1970s, while her daughter was alive till the 1990s," said Mohabir.


She found another missing link in Uttar Pradesh during her visit in the summer of 2007 - in Amrora village in Azamgarh district was the grandson of another passenger, Sant Sewak. "Interestingly, he did return to his village but went back to Guyana. The grandson showed me the letters and a will that they had preserved, complete with the Guyanese postage stamp."


She came across other stories of other returnees, who unable to cope with an independent India that had changed drastically after 1947 wanted to go back but could not afford the journey back to the colonies.


"Their stories are not about India making them

, January 20, 2008