Hundreds flocked Tract 'A" Lusignan Pasture yesterday to bid farewell to 22-year old Lusignan cricket club member Shazam Mohammed who was gunned down in his kitchen when a group of about 25 gunmen slaughtered 11 persons including children on Saturday morning.
Relatives sobbed quietly and the young man's father Nadir Mohammed who was shot in his leg was discharged temporarily from the hospital to see his son's remains for the last time.
At 10 yesterday morning Mohammed's body was taken for viewing at the Central Islamic Organisation of Guyana (CIOG) shortly after preparation according to Muslim rights.
President Bharrat Jagdeo was present for the viewing and in brief remarks extended his deep condolences once again to relatives, conceding that there was nothing which could be done to alleviate the pain that relatives feel.
"This is a terrible tragedy and the fact that so many of our people were murdered ... there is nothing we can do to alleviate the pain the family is feeling right now, all we can do now is extend our condolences," Jagdeo said at the brief viewing of the body.
The president also alluded to the fact that Mohammed played a very important role in his family and was very supportive to his parents.
CIOG Education and Dawah Director Moeen ul Hack emphasized that the organisation stood by the family in their time of grief.
Meanwhile at the family's home, relatives sobbed quietly as they sat around the coffin bearing Shazam's body wrapped in traditional white cotton. His mother Bibi and other relatives sat around his body.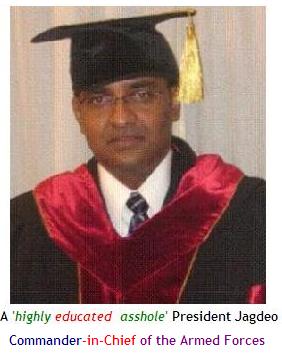 "Why this happen, now you lie down there," the woman cried as she stared at her son's body with fear still obvious in her eyes as she was comforted by relatives.
The man's body was later taken to the Lusignan Public road where hundreds of residents poured out to pay their respects.
Many relatives fainted as his body was taken to be interred into the Lusignan Muslim cemetery.
Several government officials including Prime Minister Samuel Hinds were part of the public road viewing.
Shazam Mohammed, who was an employee of HS Nauth Construction Company, was on his bed on Saturday morning sleeping when the men attacked. His mother Bibi Khan had told this newspaper that the family was asleep and they were awakened by a deafening burst of gunfire. Before they could react the gunmen had already reached their door, kicking it down after calling on them to open it. "We stayed quiet but then the bullets started to fire in the house," the woman recounted. The high powered ammunition pierced the frail wooden walls of the home hitting her husband Nadir Mohammed on his leg while he lay on his bed. Once his father was shot Shazam ran to the kitchen for safety but with not much room to run in the modest house the gunmen fired several rounds striking him in his chest and head. He collapsed on the kitchen floor, dying instantly.