Shot cambio dealer was charged in RCMP drug bust
- police official
Shot cambio dealer Leonard Mahadeo remained in a critical condition yesterday, and police have been unable to question him about the possible motive behind Saturday's apparent execution attempt.
However, police officials have investigated the victim's background and confirmed that Mahadeo was charged in 1996 in connection with a drug bust involving the Royal Canadian Mounted Police (RCMP) and the Guyana Police Force.
Mahadeo was shot in the chest, right shoulder and left knee by an armed man while sitting in his car at the corner of Barr Street and Stanley Place, Kitty.
He is being treated at a private hospital.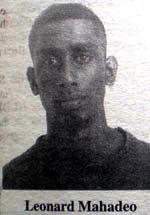 Kaieteur News understands that doctors have told police who attempted to question Mahadeo that he is still weak and should not be disturbed.
His relatives have also declined to speak to Kaieteur News.
In June 1996, Mahadeo was charged with transporting and exporting two kilos, 272 grammes of cocaine.
An operative from the RCMP testified in the historic local case, in which videotaped evidence was also tendered.
Eyewitnesses to last Saturday's attack said that Mahadeo had gone into the Bahama Breeze night spot and had bought something to drink. He then returned to his car with the beverage and, shortly after, a gunman, who was standing some 50 yards away, opened fire at Mahadeo's vehicle before escaping.
Although wounded, Mahadeo managed to exit his car and stagger into the night club.
Some patrons assisted the wounded man into his car and took him to the Woodlands Hospital.
The police recovered six spent shells and four warheads at the scene.
Tuesday, February 12, 2008