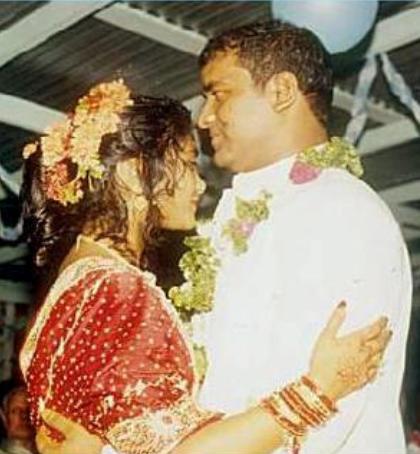 The marriage on July 26, 1998
President, First Lady end marriage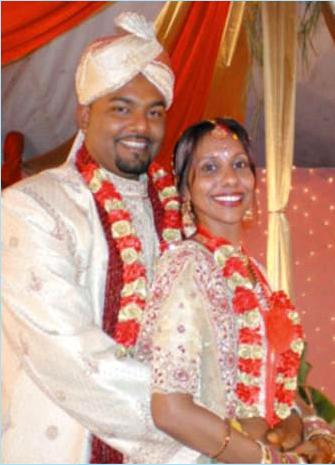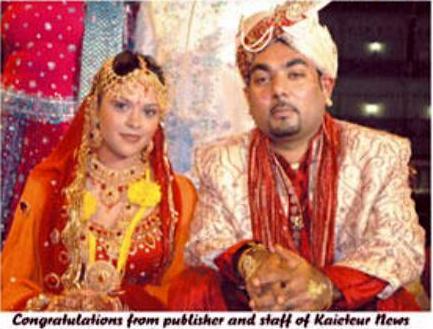 Mark Ramotar and his bride, Moshamie
Wedding of the year: Mahender Sharma, eldest son of CN Sharma, and Marcia Nadir, eldest daughter of Minister of Tourism Manzoor Nadir were married yesterday at the National Exhibition Site, Sophia.
Gunmen kill gold buyer in Kaituma raid
Monday, April 23rd 2007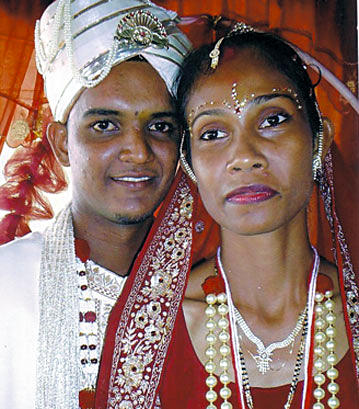 Dharamchand Mangra and his wife Gaitree on their wedding day
Four gunmen on Saturday night invaded a Port Kaituma shop and fatally wounded a gold and diamond dealer before carting off some $3M.
Dead is Dharamchand Mangra, 23, of Bush Lot, Essequibo Coast. He was air-dashed from the north west district location to the Georgetown Public Hospital early yesterday morning but it was too late to save his life. Up to press time last night one man was in police custody as ranks continue to comb the Region One (Barima/Waini) area. Residents are fearful that the killers might be on a robbery spree.
Speaking to Stabroek News yesterday the dead man's mother, Doreen Mangra said that the family received a phone call at around 8:30 on Saturday night from an anonymous caller informing them of the death of the young man. Mrs. Mangra told Stabroek News that her son only recently resigned from his previous job as a meter reader with the Guyana Power and Light to work with the Jagmohan brothers as a purchaser of gold and diamonds in Region One.

Unsolved murder
Mrs Mangra said that her son left for Port Kaituma last month and was scheduled to return next month.
According to her they were told that around 8 pm on Saturday, Mangra had just locked the office which he was manning with another employee when the gunmen broke open the door and stormed in. The gunmen began shooting indiscriminately and according to reports Mangra and the other man tried to stave off the criminals but he was fatally shot. Mrs Mangra said that according to the news they received, her son was standing behind the counter and it was there that he sustained the wound to his chest that took his life. The gunmen then ransacked the office and escaped with some $3M in cash as well as gold.
She said that her son's employers made a desperate attempt to save his life by flying him out to Georgetown.
A resident in the Port Kaituma waterfront area said that from reports he received the other man who was with Mangra hid while the bandits were shooting.
The resident said it was the first time an incident of this scale occurred at the location but admitted that miners from time to time are usually robbed while coming out from the backdam. The waterfront area is the business zone of the community and the resident said that gold and diamond miners would frequent Mangra's office to sell off their gold and precious stones.
The dead man leaves to mourn his mother, wife, Gaitri Mangra and one sibling.