Calm pervades East Coast as…
First of Lusignan massacre victims buried
- Hundreds attend funeral, mindful of appeals by relatives and others for peace and calm to prevail
By Shirley Thomas
HUNDREDS of Lusignan residents and other sympathisers from across the country gathered in the East Coast Demerara community yesterday for the funeral service of Shazam Mohamed -- the first of the 11 persons massacred by marauding gunmen last Saturday, to be laid to rest.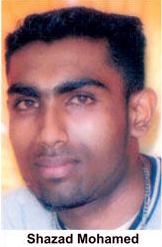 It was the first day when calm dominated the village and neighbouring communities, as residents respected the calls of family members for their loved ones to "go in peace".

| | |
| --- | --- |
| . | |
There was a flood of emotions at the home of the Mohamed family at Lot 30 Lusignan, when hundreds turned up to join in a religious service, to pay their last respects to the 22-year-old.
Residents of Lusignan and other villages across the Coast, still in shock at the brazen terror attack, turned out in their hundreds to show solidarity with the family, as they await tomorrow, when the rest of those executed by high powered weapons would be laid to rest, either by burial or cremation.

An outpouring of grief as family members view the remains of 22-year-old Shazam Mohamed at his Lusignan home yesterday
Mohamed, employed as an accountant with the H. Nauth and Sons civil engineering firm, was one of the eleven persons mercilessly mowed down by heavily armed criminals in their homes last Saturday.

Also wounded from his home, was his father Nazir Mohamed who was shot in both legs, and who is hospitalized at the Georgetown Public Hospital.

Reports are that the elder Mohamed was taken to the home in a wheelchair from the hospital to see his son's body for the last time.

Amidst deep anguish, family members and other mourners showed responsibility and great maturity in keeping calm and letting peace prevail.
President Bharrat Jagdeo attended a private viewing at the headquarters of the Central Islamic Organization in Georgetown.

Among the many speakers at the service held at Mohameds' home was President of the CIOG, Haji Fazeel Feroze.
Muslim brothers and male relatives pay their last respects at the funeral of Shazam Mohamed.
He admonished those present and indeed all Guyanese to resist and desist from all attempts to hit back.

"We must resist and desist from all attempts to hit back, because we do not know who perpetrated this crime. To hit back at people of a different ethnicity – innocent people, then we will be doing exactly what the killers of our wives, our children, our brothers did," Feroze told the large gathering of mourners.

He said it was a time to sit down, think and reflect, and do so soberly.

Considering the extent of the massacre, Feroze noted that it is "beyond the grasp of our understanding that the innocent – the children, the women, the poor in our country, the defenceless -- have been picked on by a 'mad gang' who have unleashed their terror and horror on the community of Lusignan in this manner."

"We cannot understand this and we are all shocked, and therefore we can only turn to the Creator of the Universe, and beg Him for His mercy, His protection and understanding, while trying to cope with what is happening here," he said.

He assured the grieving families that the whole country is with the people of Lusignan at this time, extending their sympathy, "be they Muslim, Hindu, Christian, African, Amerindians or Indians, they are all with you."
Feroze also used the occasion to admonish the people of Guyana, not to let the victims of the Lusignan massacre and other horrific incidents in the country, go in vain.

The body of Shazam Mohamed being taken to the Good Hope cemetery – its final resting place.
"Let us raise our voices, but do it in a peaceful, purposeful manner – a manner in which we can get results – not to cause inconvenience and destruction to others in their communities," he admonished.

He pointed out that to fan the flames of racial disunity in the country would be to play into the hands of those who want to cause problems in the country.

Acknowledging that there are problems with the security system in the country, Feroze said it is important that such problems be addressed, so that those lives that have been snuffed out during the reign of terror in Lusignan on Saturday morning, will not go in vain.

"We have to stand firm and demand of our government and our security people that we would like to see an end to this kind of thing in our country, and that we will all be willing to work with them to solve this problem," he said.

"The Guyanese people – not only the people of Lusignan - need to be able to walk this land without fear and live in peace, love and harmony," Feroze stated.

He charged those present to not only mourn with the grieving relatives "today", but be there for them even after.

"They will need to be comforted, consoled, and counseled. They will need our love, our care. We must reach out to them. Let us not just come today to express our sympathy then leave them. Let us stand by them as we want people to stand by us. Let us not allow race, ethnicity or religion to get between us and divide us," Feroze urged.

Prime Minister Sam Hinds and several government ministers were among those who attended and witnessed the funeral rites at a separate service held on the forecourt of CARICOM Auto Sales on the Lusignan public road, where hundreds gathered to view the remains of the young man cut down in the prime of his life.

The hundreds then marched to the Good Hope cemetery where Mohamed was buried.

Meanwhile, residents of Lusignan have planned a peaceful protest "for security" starting from Lusignan to Georgetown today.

However, Police said they received no application for permission to stage the march.

The residents said they will allow the funerals to go ahead tomorrow without protests, but plan to stage another march for justice in the killings on Friday.
Wednesday, January 30, 2008
.
.