'Fineman' calls Kaieteur News...
'Tell dem ah want meh wife back... ALIVE!!!
* admits to Lusignan massacre
* denies killing 'Sash' Sawh
* says he will create history
A man purporting to be Rondell "Fineman" Rawlins, Guyana's most wanted, has admitted responsibility for Saturday's massacre in which eleven persons from Lusignan, among them five children, were slaughtered in a pre-dawn raid.

The man has also threatened to create history if his "wife" is not returned alive.
In several telephone calls to publisher of Kaieteur News, Glenn Lall, and Editor-in-Chief Adam Harris yesterday afternoon, the caller, whom this newspaper believes is indeed Rawlins, said that he is giving "them" a few days breathing space to see whether the teenager, Tenisha Morgan, 19, is returned to her home. Failing this, there would be another attack that would make the Lusignan massacre pale into insignificance.
"Rawlins", on the pleadings of both Lall and Harris, gave his commitment not to hurt any children this time around, and claimed that since his "woman" and his child had been taken away, he had responded that way.
Emphatically stating that the child is his "f…ing seed", the man said that he is not going to let it go like that, and the Guyana Defence Force "is not going to able with it".
"Rawlins" was particularly upset that he had been accused in the murder of former Minister of Agriculture Satyadeow Sawh, something he denied vehemently and pointed out that he is blamed for almost every crime that happens in Guyana.
"Jah Rastafari know I had nothing to do with the Minister (Sawh) killing, they just trying to put that on me. Imagine dey got four or five crime happening every day and dey blaming me fuh all. How the f… I could be everywhere at the same time?"
During the initial call, which came to Lall through the switchboard of the newspaper at around 15:00 hrs, a power outage terminated the call.
The publisher immediately called a meeting of senior reporters and editors, including Harris, to decide how to deal with the story.
"Rawlins" called back about 20 minutes later and, speaking with Lall and Harris, accused well-known individuals, whom he said were part of the "phantom," of kidnapping his "woman" to get back at him for Minister Sawh's murder.
Naming three persons whom he is adamant know about the whereabouts of his "woman", the caller was convinced that his "wife" did not just decide to go off on her own, but was kidnapped.
"Rawlins" claimed that he had been with her for four years, and had his wife decided to leave, she would have called him. "She would have avoided this slaughter; she would not have allowed me to bring this heat on myself."
"Rawlins" also claimed he had checked all the hospitals, airport and even in Suriname and Barbados, so he is convinced that his "wife" had been kidnapped. He said that she could not be in Suriname and Barbados, where he has "people," and someone not call him. The man also slammed the police, who he said have not done anything substantial to find his "wife".
He said that they failed to even take a statement from the vendor. This angered him more. But the police said that they have a statement from the woman.
He noted that there were reports that he had sent eight men to question a vendor who was said to be the last person to see her.
According to "Rawlins", he had only sent one man, and had it been a case that he really wanted the vendor, she would have been placed in a car trunk and taken to him.
"Dey seh I send eight men to that vendor. If I de send eight men to she, they woulda bring she back in a car trunk."
"Rawlins" said he knew the vendor lived in Plaisance.
Yesterday, in an effort to seek continued contact with the caller, both Lall and Harris provided him with their mobile numbers.
On Sunday, the Joint Services, in a statement, denied that it has Morgan in its custody.
The Joint Services said it wished "to categorically state that neither the Guyana Defence Force, the Guyana Police Force, the Guyana Prison Service, nor the Guyana Fire Service has Tenisha Morgan of Friendship/Buxton, ECD, in their possession."
The statement added that persons who suggested that the Joint Services were in possession of Morgan were "being extremely mischievous."
The release also stated that the Police Force is continuing investigations into the missing person report made, with the view of locating Morgan.
The pregnant teen is believed to have been kidnapped after she vanished mysteriously on January 18, and has not been seen since.
"Rawlins" said that some men were drinking in the vicinity of the East Coast Demerara Car Park and they saw his "wife". He accused them of sending a taxi after the car in which she travelled.
Rawlins is wanted for several murders, and police have issued a $30M reward for his capture.
Kaieteur News had previously reported that Tenisha Morgan left her Friendship/Buxton, East Coast Demerara home on Janaury 18 to go to a private city hospital after she experienced labour pains.
Morgan's cousin, Althea Hills, who lives in Kitty, says that she was to have accompanied the teen to the hospital.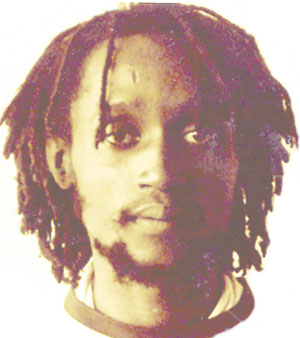 According to Hills, Morgan caught a bus from Buxton, and later called from Georgetown to say that she would travel by taxi to her (the cousin's) home in Kitty.
Hills says that she waited for her cousin but she never turned up.
She added that she dialled the number from which Morgan had called, but an individual who identified herself as a vendor answered.
Hills says that the 'vendor' claimed that she saw Morgan enter a taxi after making the call. The woman says that she and other relatives visited several city hospitals but failed to locate Morgan.
Subsequent to her disappearance, a man claiming to be Rawlins, also known as Fine Man, made several calls to the Criminal Investigations Department (CID) warning them to turn over his woman or face the consequences.
Two days ago, Morgan's mother, Waple Morgan, reported that someone purporting to be her daughter sent a text message claiming to be alright and informing that the baby was fine.
A source close to the investigations said that the police have been able to trace the phone from which the text message was sent, and they have someone in custody.
Those dead from Saturday's massacre are: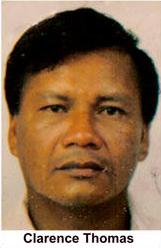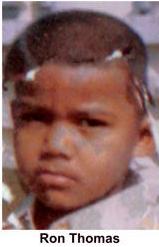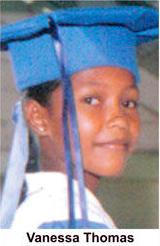 Clarence Thomas; his son, Ron, 11, and daughter, Vanessa 12;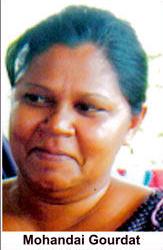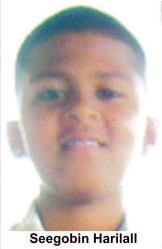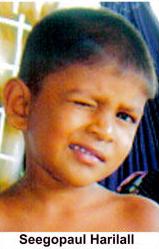 Mohandai Gourdat, 32, and her two children, Seegobind, four years old, and Seegopaul Harilall, 10;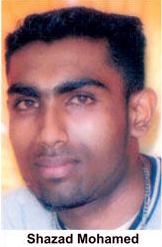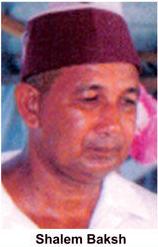 Shazam Mohamed; Shalem Baksh, 52;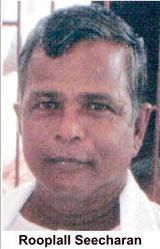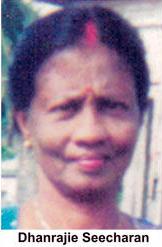 Rooplall Seecharan, 56, his daughter, Raywattie Ramsingh, 11, and his wife, Dhanrajie, called Sister, 52.

The injured are Howard Thomas, 19; Nadir Mohamed, 48; and Roberto Thomas, five.
Most of the dead were shot in their stomachs and were left lying in pools of blood that covered most of the floors of their modest homes.
The killings have prompted a number of protests in the normally quiet village of Lusignan. These protests have spread to Mon Repos and then to West Berbice.
Several persons were arrested and infrastructure was damaged during the protests, which started on Saturday.
Wednesday, January 30th 2008